Back
Strategic Program Cancer
Strategic Program Cancer
The Strategic Program Cancer is a world leading platform at UMC Utrecht for cancer research and innovation. We focus on improving the outcome of cancer patients, and those at risk of cancer.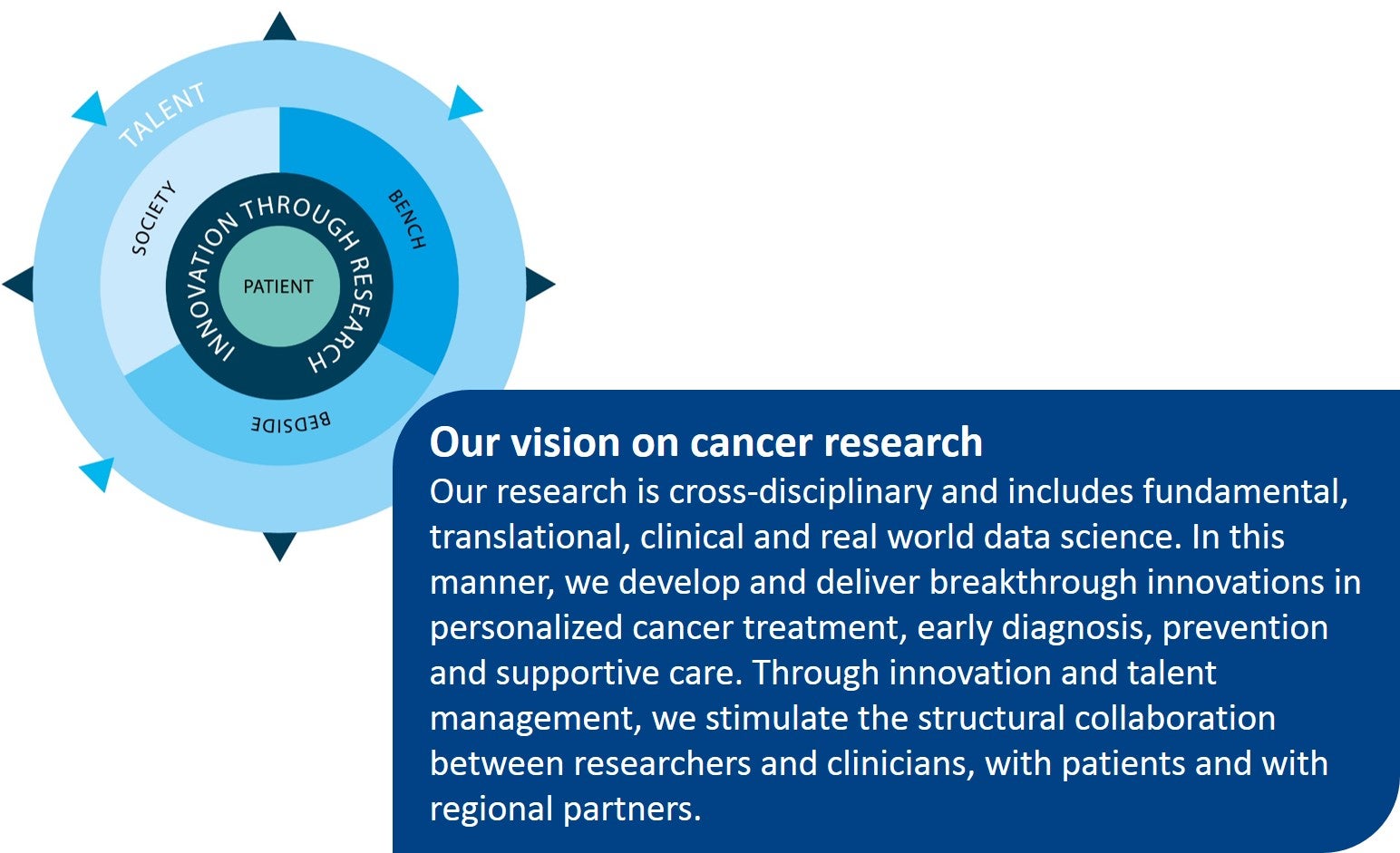 Our ambitions
uitklapper, klik om te openen
Design precise and personalized interventions based on molecular profiling, immune profiling and imaging
Enable early diagnosis, in order to prevent or mitigate the disease
Utilize real life data, advanced disease models and imaging to predict the clinical outcome of interventions
Translate unique fundamental knowledge into clinical applications with societal impact that sustainable, affordable and accessible
Develop interventions that ensure high quality of life during survivorship and palliative care
Encourage multidisciplinary collaborations and foster talent
Research
uitklapper, klik om te openen
The Strategic Program Cancer encompasses 3 research themes:
These research themes connect research and care through the multidisciplinary interaction between fundamental, translational and clinical scientists. This enhances our strong position in molecular, cellular and imaging science and aligns with our unique population, patient cohorts including biobank data and expertise in building and utilizing these data for individualized risk stratification and intervention. Our research groups are sorted by theme (see above). Browse our research themes and take a look at our research groups.
Patient care
uitklapper, klik om te openen
In the UMC Utrecht, 13 multidisciplinary tumor working groups have been installed to optimalize patient care paths. Our clinical and translational scientists secure the delivery of our research innovations to cancer patients. Not only in the UMC Utrecht, but also in surrounding hospitals whom have united in the regional oncology network Oncomid.
Next to this, the UMC Utrecht has been appointed as Center of Expertise for 36 rare disorders by the Dutch ministry of Health, Welfare and Sport, sometimes in collaboration with other hospitals. Among these are many Centers of Expertise related tot cancer. In these Centers of Expertise healthcare providers share their (scarce) expertise and experiences with each other, and importantly, they conduct research. Because these disorders are usually so rare in the Netherlands, cooperation at European level is crucial. That happens in European Reference Networks. Together, healthcare providers and researchers ensure good quality care according to the latest medical insights. A golden combination in rare disorders.
Lastly, the UMC Utrecht has been acknowledged as Center of Excellence in two cancer-related research areas.
Education
uitklapper, klik om te openen
We are involved in 5 PhD programs at the Graduate School of Life Sciences:
Career development
uitklapper, klik om te openen
Interested in joining our world leading cancer research or an internship? Have a look at our career opportunities:
Our OncoCareerBoard provides a community and support network for early and mid-career scientists at PhD, post doc and assistant professor levels.
Public engagement
uitklapper, klik om te openen
We organize and take part in various activities to connect with society, such as Meet the Professor and Slimme Gasten. Our daily board regularly discusses the research strategy with the patient sounding board and various patient advocacy groups. We are very thankful for their involvement and expertise to further sharpen our mission.
Upcoming events
uitklapper, klik om te openen
And in case you have missed them, please enjoy the inaugural lectures of all of our recently appointed associate professors on YouTube.
Latest associate professor lecture
The people behind the Program
uitklapper, klik om te openen
Contact us
uitklapper, klik om te openen
Mail us at: StrategicProgramCancer@umcutrecht.nl
Visiting address:
UMC Utrecht, Stratenum 3.115
Heidelberglaan 100
3584 CX Utrecht
Thank you for your review!
Has this information helped you?