Back
Epilepsy Genetics
Epilepsy Genetics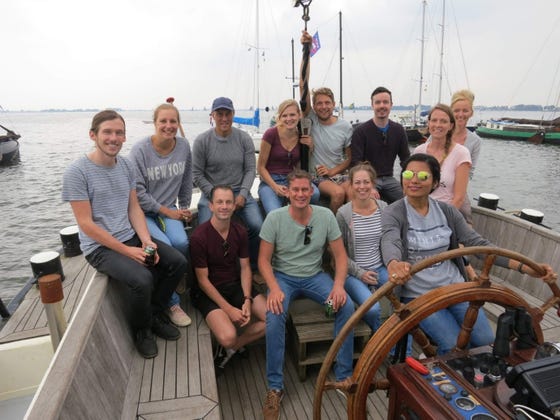 We focus on the genetic causes of monogenic and common forms of epilepsy. An important aim of our studies is to translate genetic findings to clinical relevance. We perform genetic research of common epilepsy through Genome-Wide Association Studies (GWAS) and pharmacogenetic studies in collaboration with the ILAE consortium on complex epilepsy
Group members:
Joep van de Vondervoort (PhD-student)
Wout Weuring (PhD student)
Remi Stevelink (PhD student)
Martijn Koetsier (Technician)
Ruben van 't Slot (Technician)
Anja Sonsma (Research nurse)
Sakshi Singh (Post-Doc)
In this consortium, we co-led and performed the analysis of the GWASs in common epilepsies that have identified a significant proportion of the heritability of epilepsy, in particular in the generalized epilepsies. These GWAS studies have resulted in several convincing associations that illuminate the disease mechanism, predict novel drug targets, and show its genetic correlation to other neurological disorders. Large patient cohorts are at the heart of these studies and we are collaborating with several epilepsy clinics, in particular the Epilepsy Expert center SEIN, to establish the largest epilepsy cohort in The Netherlands: The Epilepsy Biobank.
We further are dedicated to find the monogenic causes of severe childhood epilepsy and translating the genetic findings to novel precision medicine. Through Next Generation Sequencing studies we have contributed to the discovery of several new epilepsy genes, including NR4A2, NEXTMIF, HCN1, STX1B, CHD2, and DNM1. Our research aims to improve diagnosis, and prognosis, and find new treatments for these rare genetic epilepsies. We perform preclinical work on the development of personalized therapies that are based on the patient-specific genetic cause of epilepsy. We are designing and testing novel gene therapies (CRISPR gene editing and RNA-based gene activation), and work on methods for efficient delivery of such therapies to the brain.
Key publications
1: CRISPRa-Mediated Upregulation of scn1laa During Early Development Causes Epileptiform Activity and dCas9-Associated Toxicity. Weuring WJ, Dilevska I, Hoekman J, van de Vondervoort J, Koetsier M, van 't Slot RH, Braun KPJ, Koeleman BPC. CRISPR J. 2021 Aug;4(4):575-582. doi: 10.1089/crispr.2021.0013
2: NaV1.1 and NaV1.6 selective compounds reduce the behavior phenotype and epileptiform activity in a novel zebrafish model for Dravet Syndrome. Weuring WJ, Singh S, Volkers L, Rook MB, van 't Slot RH, Bosma M, Inserra M, Vetter I, Verhoeven-Duif NM, Braun KPJ, Rivara M, Koeleman BPC. PLoS One. 2020 Mar 5;15(3):e0219106. doi: 10.1371/journal.pone.0219106
3: Remarkable Phenytoin Sensitivity in 4 Children with SCN8A-related Epilepsy: A Molecular Neuropharmacological Approach. Boerma RS, Braun KP, van de Broek MP, van Berkestijn FM, Swinkels ME, Hagebeuk EO, Lindhout D, van Kempen M, Boon M, Nicolai J, de Kovel CG, Brilstra EH, Koeleman BPC. Neurotherapeutics.
4: Mosaicism of de novo pathogenic SCN1A variants in epilepsy is a frequent phenomenon that correlates with variable phenotypes. de Lange IM, Koudijs MJ, van 't Slot R, Gunning B, Sonsma ACM, van Gemert LJJM, Mulder F, Carbo EC, van Kempen MJA, Verbeek NE, Nijman IJ, Ernst RF, Savelberg SMC, Knoers NVAM, Brilstra EH, Koeleman BPC. Epilepsia. 2018 Mar;59(3):690-703. doi: 10.1111/epi.14021
5: De novo variants of NR4A2 are associated with neurodevelopmental disorder and epilepsy. Singh S, Gupta A, Zech M, Sigafoos AN, Clark KJ, Dincer Y, Wagner M, Humberson JB, Green S, van Gassen K, Brandt T, Schnur RE, Millan F, Si Y, Mall V, Winkelmann J, Gavrilova RH, Klee EW, Engleman K, Safina NP, Slaugh R, Bryant EM, Tan WH, Granadillo J, Misra SN, Schaefer GB, Towner S, Brilstra EH, Koeleman BPC. Genet Med. 2020 Aug;22(8):1413-1417. doi: 10.1038/s41436-020-0815-4
6: Neurodevelopmental Disorders Caused by De Novo Variants in KCNB1 Genotypes and Phenotypes. de Kovel CGF, Syrbe S, Brilstra EH, Verbeek N, Kerr B, Dubbs H, Bayat A, Desai S, Naidu S, Srivastava S, Cagaylan H, Yis U, Saunders C, Rook M, Plugge S, Muhle H, Afawi Z, Klein KM, Jayaraman V, Rajagopalan R, Goldberg E, Marsh E, Kessler S, Bergqvist C, Conlin LK, Krok BL, Thiffault I, Pendziwiat M, Helbig I, Polster T, Borggraefe I, Lemke JR, van den Boogaardt MJ, Møller RS, Koeleman BPC. JAMA Neurol. 2017 Oct 1;74(10):1228-1236. doi: 10.1001/jamaneurol.2017.1714
7: De novo mutations of KIAA2022 in females cause intellectual disability and intractable epilepsy. de Lange IM, Helbig KL, Weckhuysen S, Møller RS, Velinov M, Dolzhanskaya N, Marsh E, Helbig I, Devinsky O, Tang S, Mefford HC, Myers CT, van Paesschen W, Striano P, van Gassen K, van Kempen M, de Kovel CG, Piard J, Minassian BA, Nezarati MM, Pessoa A, Jacquette A, Maher B, Balestrini S, Sisodiya S, Warde MT, De St Martin A, Chelly J; EuroEPINOMICS-RES MAE working group, van 't Slot R, Van Maldergem L, Brilstra EH, Koeleman BPC. J Med Genet. 2016 Dec;53(12):850-858. doi: 10.1136/jmedgenet-2016-103909
8: Genome-wide mega-analysis identifies 16 loci and highlights diverse biological mechanisms in the common epilepsies. International League Against Epilepsy Consortium on Complex Epilepsies. Nat Commun. 2018 Dec 10;9(1):5269. doi: 10.1038/s41467-018-07524-z
9: Analysis of shared heritability in common disorders of the brain. Brainstorm Consortium. Science. 2018 Jun 22;360(6395):eaap8757. doi: 10.1126/science.aap8757
10: Genetic determinants of common epilepsies: a meta-analysis of genome-wide association studies. International League Against Epilepsy Consortium on Complex Epilepsies. Lancet Neurol. 2014;13(9):893-903.
Full publication list:
https://pubmed.ncbi.nlm.nih.gov/?term=koeleman+B&sort=date
Thank you for your review!
Has this information helped you?