Back
DENSE research wins Science and Innovation Prize 2021

DENSE research wins Science and Innovation Prize 2021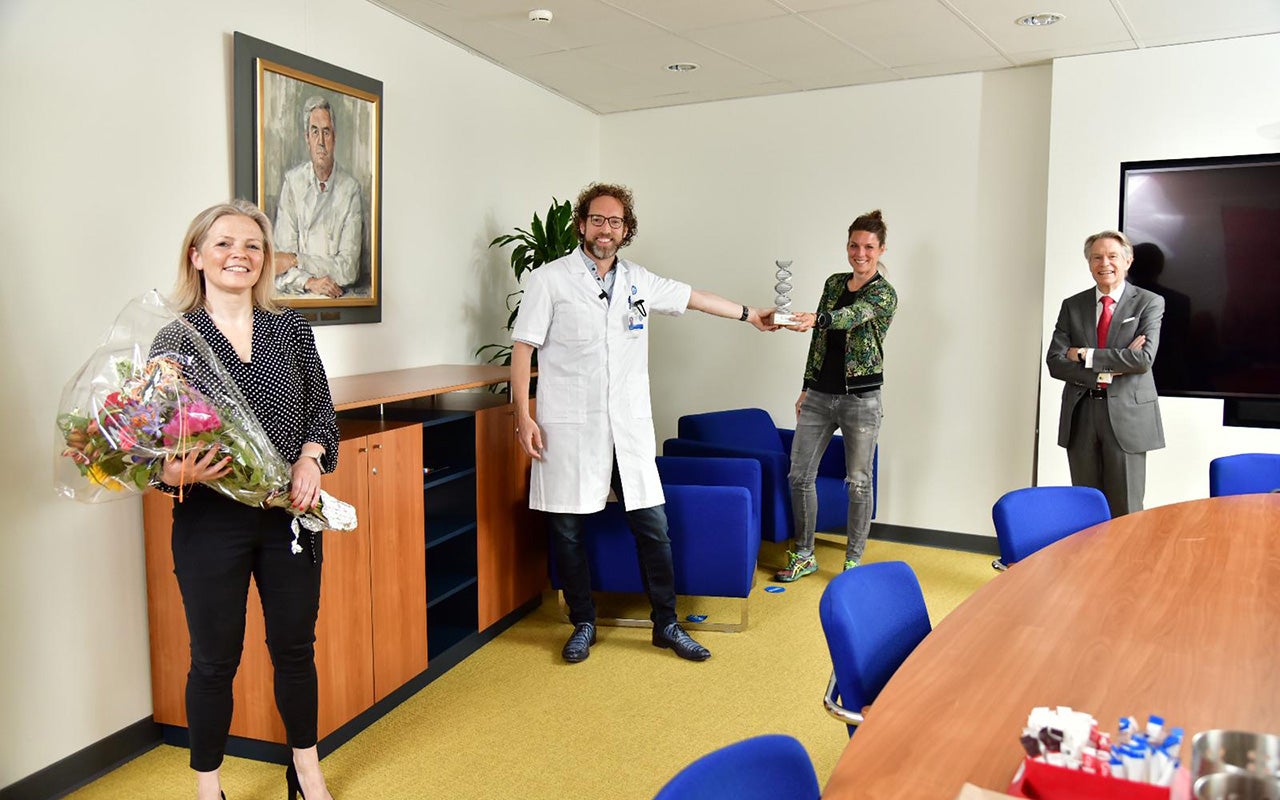 The DENSE trial shows that breast cancer in women with dense mammary gland tissue is much better detectable with an MRI as a supplement to breast cancer screening. "With this MRI, tumors are found earlier, are smaller on average and less often spread to the axillary lymph nodes," says researcher Carla van Gils. According to Jeroen Geurts, chair of the jury of the Science and Innovation Award 2021, the research is clinically relevant and innovative. The jury regards it as a game changer, which is why this breast cancer screening study was selected as the winner of the Science and Innovation Award of the Dutch Federation of Medical Specialists.
"We are very honored and happy with this award," said radiologist Wouter Veldhuis of the UMC Utrecht. "We see it as an important recognition of our work as a research team. In the group of women with dense mammary gland tissue, at least 4 out of 10 existing tumors are not clearly visible on the mammogram of the screening. As a result, tumors are sometimes discovered at a late stage. Early detection of breast cancer is of added value to the treatment and prognosis of this group of women. With the results of our research, we can really do something for them."
Research team
The team consists of Wouter Veldhuis, Carla van Gils, Ruud Pijnappel, Stéphanie de Lange and Marije Bakker. The study was set up by the UMC Utrecht in collaboration with the Antoni van Leeuwenhoek Hospital, Albert Schweitzer Hospital, Maastricht UMC+, Jeroen Bosch Hospital, Amsterdam UMC, Radboudumc, ZGT and Erasmus MC.
Nominations
A total of 24 scientific associations entered a study for the Science and Innovation Award 2021. A professional jury selected three nominations from these entries. The DENSE trial was entered by the Dutch Association for Radiology. The other nominations were the REDO trial and the Septum trial. The REDO trial was entered by the Dutch Society for Rheumatology and is a study into the effect of lowering the dose of rituximab in patients with rheumatoid arthritis. The Septum trial, entered by the Dutch Society for Ear, Nose and Throat Surgery, is a study on the effect of straightening the septum in the event of respiratory problems.
About the Science and Innovation Award
The Science and Innovation Award is an initiative of the Federation of Medical Specialists that aims to stimulate good and innovative research and give it a platform. The DENSE trial research team wins with this study a 3D printed trophy, and a cash prize of 5,000 euros (to be spent on subject-related activities).